If you're an ag equipment dealer, or you distribute supplies and equipment for agriculture, hobby farm, lawn/turf maintenance, or hunting/recreational vehicles, you'll want to consider investing in CropCare.
Why? Because CropCare will invest in you. Hear from dealers here.
Here are 10 benefits our CropCare dealers enjoy:
1. Dealer Portal: The free portal, easily accessed at CropCareEquipment.com, serves as a central location for tons of dealer support, updates, educational material, downloadable sales and marketing tools, and more.
2. Quick Quote Tool: Makes quoting super easy, especially in the ag sprayer category. Dealers place in options, step by step. A sales quote can be easily achieved without studying any price sheets. There is no app to purchase. Just log in and access it.
3. Free Blog Subscription: Industry news, product announcements, new information and company notifications are located in one central blog that's updated regularly.
4. Free Sales Order Log: See and track all orders placed, with a price list.
5. Ad reimbursement/Co-Op Advertising: CropCare Equipment pays half the cost of advertisements run by our dealers (up to a certain percentage of sales). On ads that CropCare runs, the dealer's name, address and phone number are listed in publications our dealers have chosen (for a small fee).
6. Free, year-round listing of dealerships on CropCareEquipment.com.
7. Free dealer training events throughout the year, and on-site support. We have a Dealer Support Expert on staff to visit your dealership personally.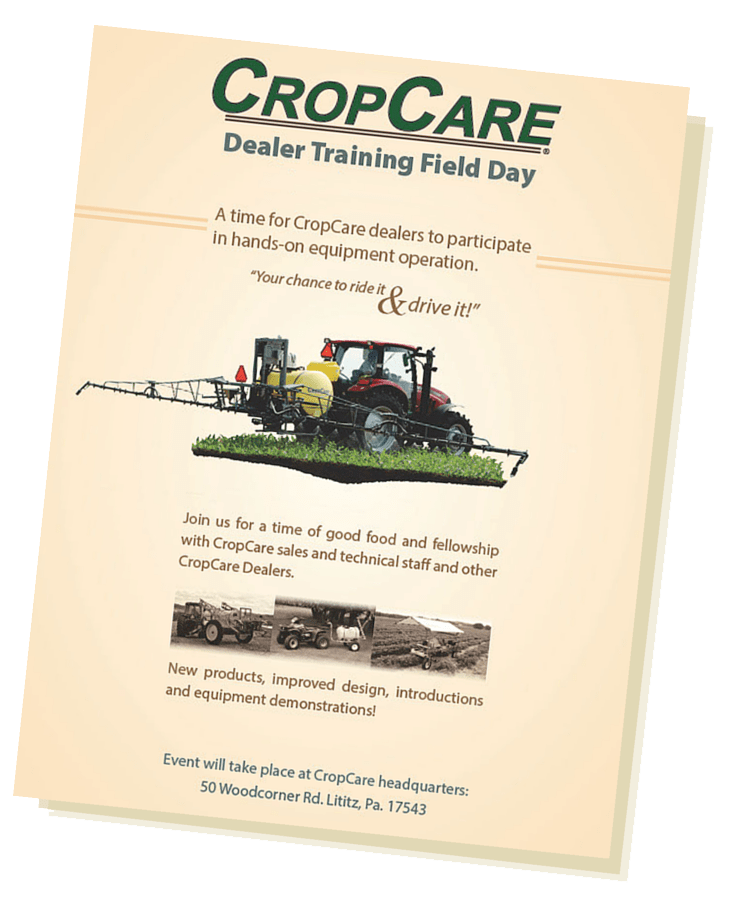 8. Free Sales and Technical Support: The majority of the business is staffed by those in the ag industry, and a dedicated technical service department is available for consultation. Our Research and Development Team welcomes feedback and ideas. Plus, our parent company, Paul B. Zimmerman, Inc., has a marketing department dedicated to promoting CropCare's product line on print and digital platforms.
9. Trade shows: CropCare staff will offer trade show notification and support via training, advice or physically being on site in partnership with dealers.
10. Early Order Program: CropCare does not require a high inventory amount. Delayed Payment Plan: Order product in September, no need to pay until May 31.
Bonus: People. Yes, you will deal with humans and have actual, genuine conversations with people on staff when you need support, products or questions answered.