CropCare Dealers Get Year-Round Support
Sukie Kindwall and Howard Boyden of Oesco, Inc. in Conway, MA, have been CropCare dealers for a few years after another brand they were selling became too costly.
"We had been interested in CropCare sprayers and equipment before they made the decision to sell to dealers," said Sukie.
CropCare's location in southcentral PA is ideal, making pickup easy for Oesco.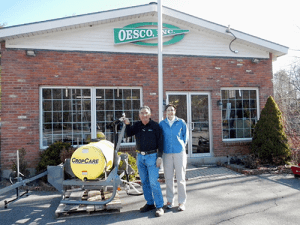 But the best part of their partnership with CropCare is the customer support they're given.
"The CropCare dealer portal is very useful, whether it is for pricing a sprayer or accessing parts catalogs," Sukie said. "The parts books-build lists are right at our fingertips. It makes our jobs easier. We can quote sprayers quickly and with confidence in the quoted price."
For Curvin Martin of Martin's Repair Shop LLC in Ephrata, the technical support CropCare provides is most helpful. "The guys there, they're really knowledgeable," said Curvin. "We like their products and CropCare is well-known for good quality among farmers in Pennsylvania and surrounding states."
Short stats:
54 CropCare Dealers with a total of 72 dealership locations exist in 21 states, with dealerships specializing in Farm & Lawn, Agriculture, and Vegetable Equipment.
The largest concentration is in northeastern United States and along the eastern shore.
CropCare Dealerships exist from Georgia to Maine, as well as Texas, Kentucky and Missouri