3-Point Standard Model AGX 110
The CropCare® AGX110 is a 110 gallon 3PT sprayer that is economically priced from the ground up. With durable construction and features designed for ease of use, this 3PT sprayer will help meet or exceed your expectations for good crop yield and long-term success.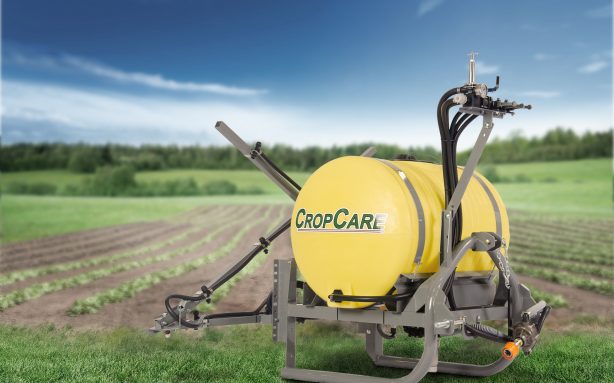 Features
110 gallon 3PT hitch unit
20' manual fold boom
20" nozzle spacing (single nozzle bodies)
7700N roller pump
A6B manual controls
Accessory Kits
A116K (2.5 gallon fresh water safety tank)
A125K (Quick fill kit, 2" male coupler)
A126K (Arag pistol grip gun with 50ft of hose)
A127K (Boom line filters (3))
F1500-3PT-BK (F1500 foam marker, 5 gallon)
Accessory kits are sold separately.
Why Choose Our 110-Gallon 3PT Sprayer?
This 110 gallon 3PT sprayer from CropCare® makes spraying efficient and strain-free. This model easily attaches to your tractor's power take-off (PTO) to deliver superior spraying power.
The 110 gallon capacity makes it ideal for small fields (including food plots), and it works well with small to mid-size tractors. The roller pump attachment allows this 3PT sprayer to handle a range of fluids, from fertilizers to insecticides.
With its 20 foot manual fold boom, the AGX110 can cover a large area in one sweep. The boom system folds to a small footprint for efficient storage in winter.
AGX110 3PT sprayers offer manual controls right above the hitch attachments, allowing you to adjust the flow from your tractor seat. A visible pressure gauge helps ensure a safe and efficient flow.
Our optional accessory kits enhance the AGX110, making your job even easier. CropCare® offers a 5 gallon foam marker so you can see the areas you cover and sidestep repeated passes. The quick fill kit helps you set up your tank right away, and the pistol grip gun with a 50 foot hose gives you an alternative spraying option when you need it.
Choose the 110-Gallon 3PT Sprayer From CropCare®
CropCare® started building sprayers for our neighbors many years ago, and the tradition continues to this day. Standard models like the AGX110 are value-optimized to give you beneficial features at a economical price.
Experience the quality, and enjoy the result by finding a dealer near you, or get in touch with us to learn more.