3-Point Standard Model AGX 200
The AGX200 gallon 3PT sprayer from CropCare® offers high-capacity spraying for food plots and small farms. It's been engineered to give you CropCare® quality at an economical price.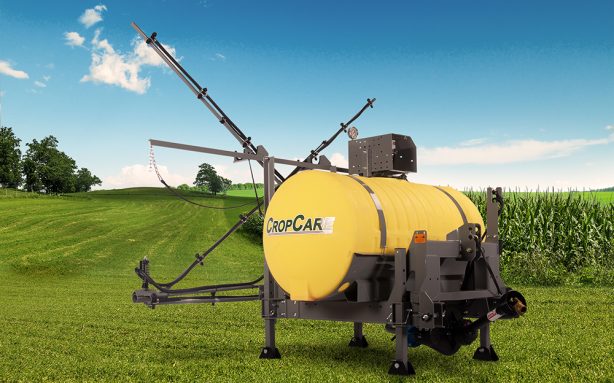 Features
200 gallon 3PT hitch unit
30' manual fold boom
20" nozzle spacing (single nozzle bodies)
PTO drive centrifugal pump
3 section SC400 electric controls
Accessory Kits
A116K (2.5 gallon fresh water safety tank)
A125K (Quick fill kit, 2" male coupler)
A126K (Arag pistol grip gun with 50ft of hose)
A127K (Boom inline filters (3), manual fold booms only)
F1500-3PT-BK (F1500 foam marker, 5 gallon)
Accessory kits are sold separately.
Get to Know Our 200-Gallon 3PT Sprayer
The CropCare® 200 gallon 3PT sprayer makes caring for your crops efficient with a high-capacity tank and a 30 foot boom. A centrifugal pump connects to your tractor's power take-off (PTO) to deliver even, high-pressure spray to every nozzle.
With the AGX200 30 foot boom, you can reach a large area in a single pass. Covering more area in less time helps you meet your goals and reduces the strain of manual spraying on the field. When you've finished the job, the boom folds up to make transport and storage easier.
Electric controls allow you to adjust the spray pressure and control your spray boom sections from your cab, rather than reaching behind you for manual adjustments. The control panel comes with three-section controls for the left, right, and center spray boom sections, giving you the customized spray coverage you want.
Enhance the features of your AGX200 by adding accessories, such as the safety tank which provides users with a way of cleaning and washing themselves of chemicals, etc. With the CropCare® foam marker, you can see where you've sprayed, so that you can avoid multiple passes and reduce spraying time. We also offer the option of a 50 foot hose and pistol grip spray gun for manual spraying. If you have a small plot to cover, this accessory helps you get the job done.
Buy Your AGX 200 Today
CropCare® started building sprayers for our neighbors many years ago, and the tradition continues to this day. Experience the quality, and enjoy the results with the the CropCare® AGX200 3PT sprayer.
Contact us for more information or find a dealer near you.