3-Point Standard Model AGX 300
The AGX300 from CropCare® is a 300 gallon 3PT sprayer that delivers efficient spraying for small farms. It's been engineered to give you CropCare® quality at an economical price, with your choice of accessories.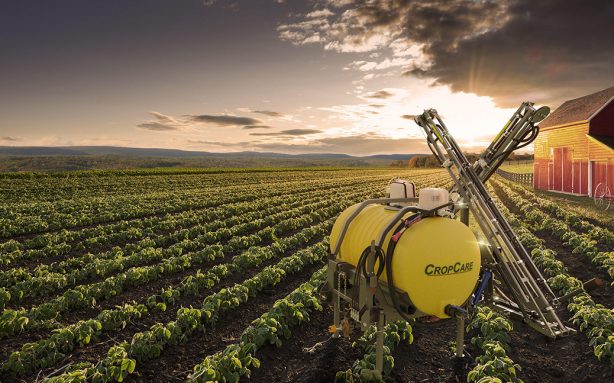 Features
300 gallon 3PT hitch unit

45' hydraulic X-fold boom
20" nozzle spacing (single nozzle bodies)

Hypro Roller Pump with Torque Arm

3-section electric controls with CropCare SC400 controler
Accessory Kits
Safety Rinse Tank

Quick-Fill

Arag Pistol Grip Gun with 50′ of hose

5 Gallon Foam Maker
Accessory kits are sold separately.
The Advantages of Our 300 Gallon 3PT Sprayer
The 300 gallon 3PT sprayer from CropCare® utilizes a 45 foot boom and high-capacity tank. This model uses a roller pump with your tractor's power take-off (PTO) to provide pressure for even spray to each nozzle.
AGX300 sprayers have a hydraulic boom configuration. The 45 foot reach allows you to cover a wide surface area, while the hydraulics make it easy to fold the boom, allowing for a convenient transition from spraying to transporting and storing the sprayer.
An electric control box fits inside the cab for easy adjustments from your seat. The control panel allows you to modify the right, left, and center nozzles for customized flow with three-section controls.
You can enhance your AGX300 with CropCare® optional accessory kits. The pistol grip spray gun and 50 foot hose support manual spraying when you have smaller plots to care for. The safety tank provides users with a way of cleaning and washing themselves of chemicals, etc.
The CropCare® 5 gallon foam marker is another optional tool that makes your job easier. Use this feature to track the areas you've sprayed so that you can limit excess passes and improve your overall efficiency.
Find Out Where to Buy Your AGX 300
CropCare® started building sprayers for our neighbors many years ago, and the tradition continues to this day. We're dedicated to providing you with quality you experience, and results you enjoy. The AGX300 has been optimized for today's farm — yours.
Find a dealer near you today or contact us for more information.