Trailer Standard Model AGX500T
The CropCare® AGX500T standard model trailer sprayer is economically-priced from the ground up for today's farm — yours.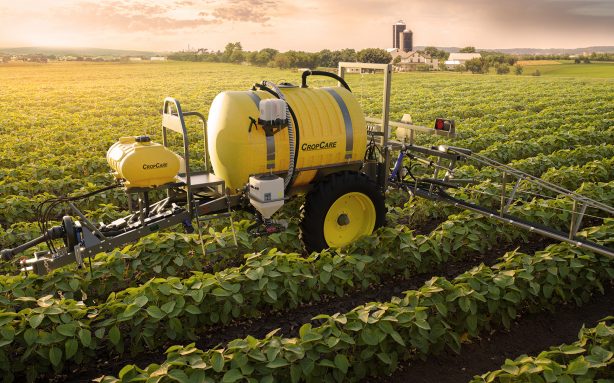 Features
500 gallon trailer
20" nozzle spacing (single nozzle bodies)
PTO centrifugal pump
5 section control manifold
12.4" x 28" wheel kit
TeeJet® wheel speed sensor and flow meter
Boom Options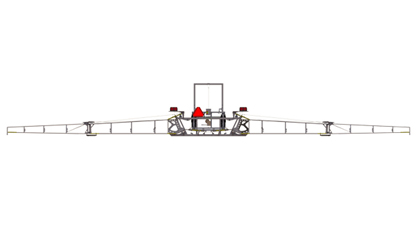 45' Hydraulic Fold Boom
Covers eighteen (18) 30" rows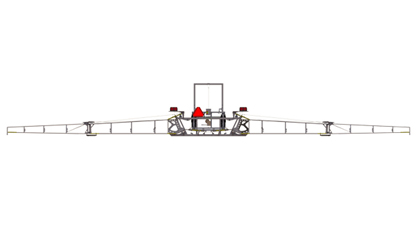 60' Hydraulic Fold Boom
Covers twenty-four (24) 30" rows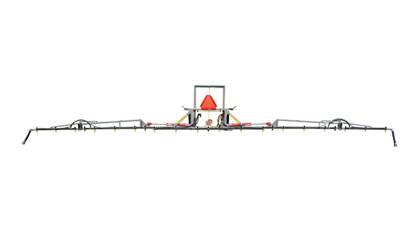 45' Hydraulic X-Fold Boom
Covers eighteen (18) 30" rows
Control Options
TeeJet to Raven adapter

TeeJet 845 5-section console with automatic rate control

TeeJet 8140 7-section console with automatic rate control

CropCare SC500 5-section console with manual rate control

Raven SCS450 6-section control console with automatic rate control
Control options are sold separately.
Accessory Kits
Sprayer Rinse Tank

Chemical Eduction System

Quick-Fill (to Sprayer Tank)

Quick-Fill (to Sprayer Tank)

Boom Lap (Fence Row) Nozzle

5 Gallon Foam Marker
Accessory kits are sold separately.
The Advantages of Our 500 Gallon Trailer Sprayer
The AGX500T offers a 500 gallon sprayer tank for fertilizing and spraying small farms without stopping for a refill. These sprayers connect to your tractor's power take-off (PTO) to deliver a consistent, powerful spray with their centrifugal pumps. Easily connect one to your tractor and start within minutes.
With the AGX500T, you can enjoy a 45 foot hydraulic boom for covering large areas in one pass, or step up this performance with a 60 foot hydraulic boom. When you complete your job, the hydraulic system folds the boom for transportation and storage ease.
The AGX500T uses a five-section control manifold. Modify flow rates at each boom section for custom liquid delivery to specified areas. Adapt your AGX500T with an electric controller, and change the flow rates and control boom nozzle sections from within the cab as you work.
A wheel speed sensor ensures you have speed data for accurate application of spray material, and the rinse, chemical eduction, and quick-fill accessories make it easy to prepare your tank for use and switch between fluids without contamination.
Get the efficiency and control you want with the AGX500T trailer sprayer.
See What Customers Are Saying About CropCare!
We're pleased to provide local farmers with quality CropCare brand spraying equipment, along with quality seed and a variety of planter parts. Each order is customized to meet each individual farmer's needs.
-James McAdams, Brier Ridge Seed
This thing (the Picking Assistant) makes harvest easy and fun and takes laying down on the job to a whole new level!
-Darren
We decided to add the Crop Care brand to strengthen the Java Farm Supply family of quality brands. We found their line of field sprayers will work on all farm sizes. The support from their field team is also very good. Crop Care is quality throughout.
-Mike Bookmiller, Java, NY
As a hunting camp owner, and habitat enthusiast, I'm absolutely delighted to have a CropCare ATX 60 gallon sprayer with 13' boom mounted in our UTV. (AND a 25 gallon ATV sprayer.) After years of fiddling with DIY and budget sprayers, it's a joy to have a heavy duty, built to last machine. It handles all our food plot, orchard and invasive species management tasks with a[...Learn more]
-Ron
There is not one thing I don't like about my 1,000 Gallon Trailer Sprayer. I really don't know why anybody that wants a trailer sprayer would not want one of these 🙂
-Steve
I purchased a 400 gallon pull sprayer with 30' booms. I've been very pleased with quality and customer service. Parts have been available as needed. Thanks for your good service.
-Stan, Alabama
The #1 tool we liked was the CropCare Picking Assistant…and we love it. We use it for planting, weeding, and harvesting. It is so great to spend the whole day in the garden and your back is not stiff nor painful at the end of the day. Our farm now has about 3 acres in production, and it is just the two of us to do all the work. Well, our Maine Coon cat loves to supervise [...Learn more]
-Steve
CropCare is a reliable company, just like their products. They are synonymous with vegetable farmers' needs, and it is a privilege dealing with farmers and CropCare!
-Bob Waterman, Sabattus, ME
Buy Your 500 Gallon Trailer Sprayer Today
The CropCare® AGX500T will help meet or exceed your expectations for good crop yield and long-term success. Experience the quality, and enjoy the results!
Get in touch with our team today. To buy yours, find a dealer near you.