Trailer Standard Model AGX750T
The AGX750T is a high-capacity trailer sprayer manufactured by CropCare® with you in mind. As one of our standard models, it's economically-priced from the ground up to give you flexible features. Take a look at this 750 gallon trailer sprayer to see how it bring benefit to your farm.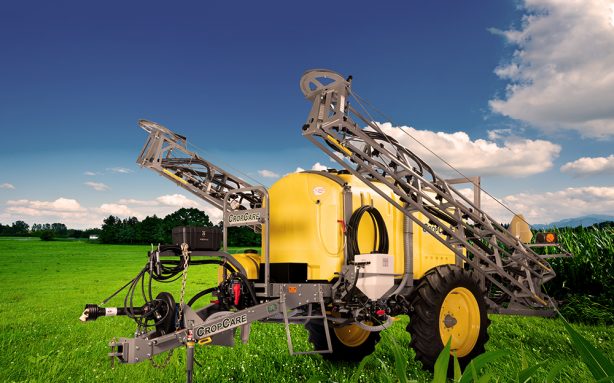 Features
750 gallon trailer
60' hydraulic folding boom
20"/30" nozzle spacing (single nozzle bodies)
PTO centrifugal pump
7 section control manifold (450 valves)
12.4" x 28" wheel kit
In-line boom filters
Rinse, eduction and quick-fill package
Power wash system with jug rinse and washdown hose
Electric fence row nozzle
TeeJet® wheel speed sensor
Control Options
T425K (Adapter, Cable TeeJet (26 Pin) To Raven (16 Pin), with manual)
90-50263 (Kit, TeeJet Radion 7-Section Console with Ram-Mount and User Guide)
SCS450K (Kit, Control Raven SCS450, with adapter)
Control options are sold separately.
Accessory Kits
A241K (Injection foam marker kit for 500 and 750 gallon trailers)
Accessory kits are sold separately.
How Does Our 750 Gallon Trailer Sprayer Make a Difference?
The AGX750T offers a 750 gallon sprayer tank that can help you cover a large farm without frequent refills. With its powerful centrifugal pump, this model delivers exceptional power and uniformity to every nozzle. Quickly hook the pump to your tractor's power take-off (PTO), and get to work within minutes.
You can cover an extensive area in a single sweep using the 60 foot hydraulic boom. The seven-section control manifold allows you to adjust spray coverage at different parts of the boom for customized spraying and fertilization. Add the Raven SCS450 control for advanced spray application and boom nozzle section controls inside the cab.
Use the electric fence row nozzles to ensure full spray coverage to the edges of your field. For added functionality, the separate accessory kits offer a foam marker system. Use this tool when your application requires multiple passes and you need to track where you've been.
When you've completed your passes, you can employ the rinse system to remove contaminants inside the 750 gallon sprayer tank.  Use the power wash system with a wash down hose to keep the exterior of your sprayer clean. The hydraulic boom folds to reduce the AGX750T footprint for easy transport and storage.
Find a Dealer for Your 750 Gallon Trailer Sprayer
The CropCare® AGX750T will help meet or exceed your expectations for good crop yield and long-term success. Experience the quality, and enjoy the results! The AGX750T is value-optimized for today's farm —yours.
Find a dealer near you today, or reach out with your questions.