Double Reel Plastic Mulch Lifter-Wrapper
The Double Reel Plastic Mulch Lifter-Wrapper combines the lifting and wrapping of plastic mulch into ONE EASY PASS. As it splits and lifts the plastic, it rolls the dirt, vines, and trash to the side and wraps the plastic neatly into rolls that are easy to dispose. Whether you are removing early sweet corn plastic in the spring or plastic mulch in the fall, you will save valuable time and greatly increase your efficiency in plastic mulch removal with the PR2500. The PR2500 also excels at lifting and wrapping buried or surface drip tape.
Find a dealer or use our contact form.
Interested in a Single Reel Plastic Mulch Lifter-Wrapper or a Plastic Mulch Layer?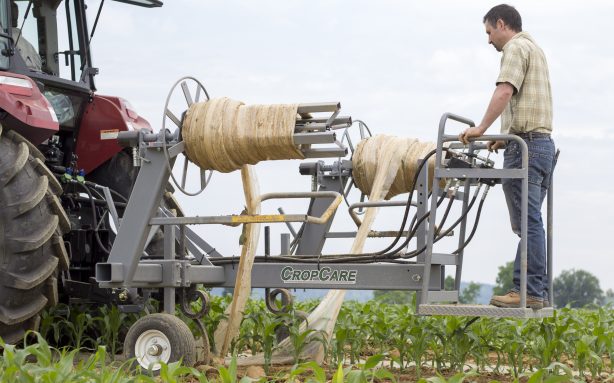 Features:
Heavy-duty powder coated steel frame & components
Easy-to-operate thumb controls
Attaches to category 1 or 2 three point hitches
2 year limited warranty
Control
The operator platform provides a complete view of the operation, and the convenient dual motor controls allow the operator to control the tension on each piece of plastic with just their thumb. Operators will quickly find that using the PR2500 is simple and even enjoyable.
Coulters
Standard single center coulter splits the plastic while the side coulters cut any vines or trash at the edge of the plastic. Optional double coulter adapter kit improves machine function when lifting plastic from beds with multiple plant rows.
Reels
Two reels wrap both pieces of plastic simultaneously. Under normal conditions, the PR2500 recovers plastic at speeds of 3-5 M.P.H. Removing plastic from the collapsible reels is fast, simple, and requires no bolts, pins, or rods to be removed.
Double Reel Plastic Mulch Lifter-Wrapper
This plastic retrieval equipment cuts down on man-hours needed to remove plastic mulch. It minimizes trash, vine and soil debris and wraps the plastic into two removable bundles.
See What Customers Are Saying About CropCare!
Contact Us
CropCare is a reliable company, just like their products. They are synonymous with vegetable farmers' needs, and it is a privilege dealing with farmers and CropCare!
-Bob Waterman, Sabattus, ME
We appreciate the quality and the easy settings of the CropCare sprayers. CropCare is one of the great manufacturers in our line of options. They create a great value for our customers.
-Zimmerman Farm Service, Inc., Bethel, PA
This thing (the Picking Assistant) makes harvest easy and fun and takes laying down on the job to a whole new level!
-Darren
We like the great service and availability we get from CropCare. We like how they help us deal with problems and issues that arise. Also helping us to resolve warranty issues
As a hunting camp owner, and habitat enthusiast, I'm absolutely delighted to have a CropCare ATX 60 gallon sprayer with 13' boom mounted in our UTV. (AND a 25 gallon ATV sprayer.) After years of fiddling with DIY and budget sprayers, it's a joy to have a heavy duty, built to last machine. It handles all our food plot, orchard and invasive species management tasks with a[...Learn more]
-Ron
The #1 tool we liked was the CropCare Picking Assistant…and we love it. We use it for planting, weeding, and harvesting. It is so great to spend the whole day in the garden and your back is not stiff nor painful at the end of the day. Our farm now has about 3 acres in production, and it is just the two of us to do all the work. Well, our Maine Coon cat loves to supervise [...Learn more]
-Steve