Foam Markers for Ag Sprayers
CropCare® foam marker systems are great tools for increasing accuracy and efficiency, whether you are spraying or using a no-till drill or planter. Large visible foam marks save time and money by reducing overlap and skips. CropCare® foam markers are the smart choice if you are in the market for a well performing unit at an economical price.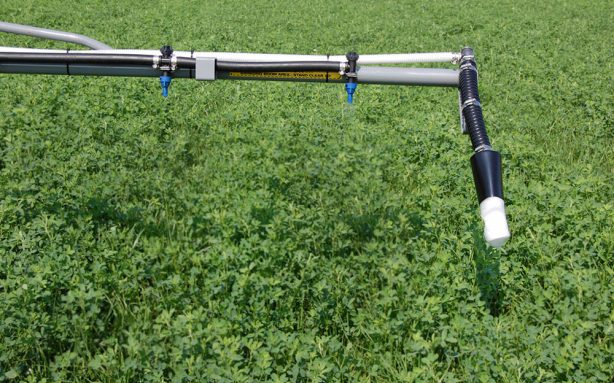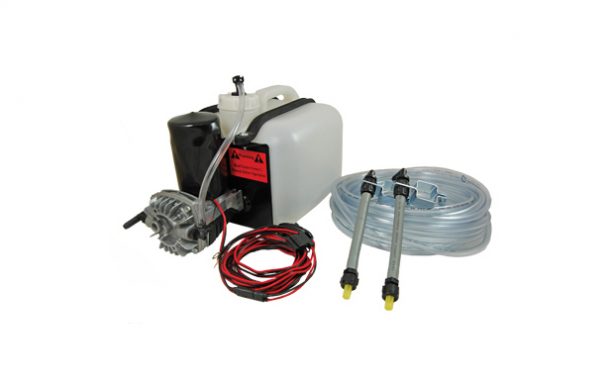 Turf Markers
Turf markers are designed for use on lawns, turf, or pastures. The turf marker simultaneously produces foam marks from two drop tubes. These foam markers are perfect for small 3PT sprayers and ATV sprayers. Turf marker systems work well on sprayer booms up to 30' and with speeds up to 5 mph.
2.5 Gallon Turf Marker
Foaming Time: 90 minutes
Power Source: 12 volt
Unit Size: 17″ x 10″ x 9″
Discharge Hose: 33 feet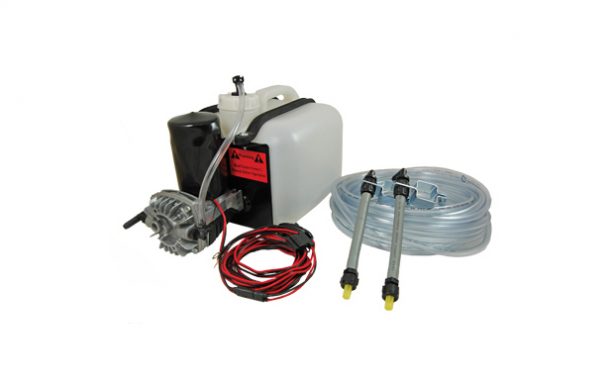 5 Gallon Foam Markers
Foaming Time: 2 hours
Power Source: 12 volt
Unit Size: 17″L x 11″W x 16″H
Discharge Hose: 83 feet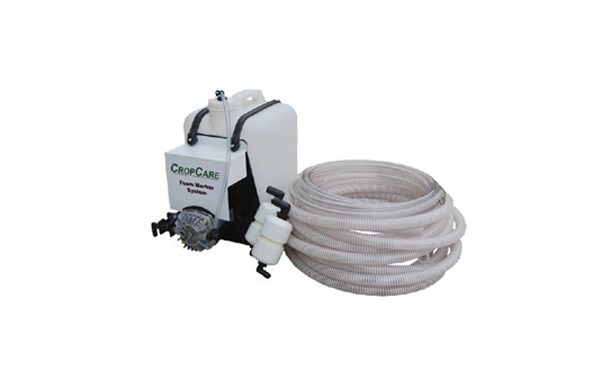 Foam Injection Markers
CropCare® F1000I foam injector system with high volume and long run time makes this unit a good choice for larger sprayers or commercial applications with booms up to 90'. The control box and wiring harness are included. It requires a fresh water source and related plumbing components that are not included.
Uses separate air compressor and liquid pump for increased foam
Has flow meter to aid operator in manually controlling foam concentrate rate
Holds 2.5 gal of pure foam concentrate rather than a foam and water mix
Uses approximately 3 gph of water
Connect to a fresh water source (components not included in kit)
Foaming Time: 2.5-10 hours
Power Source: 12 volt
Unit Size: 20″L x 13″W x 14″H
Discharge Hose: 116 feet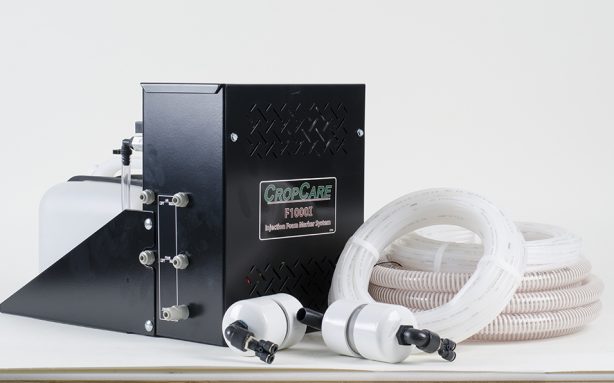 CropCare® Premium Foam Concentrate
For optimal foam marker performance
Foam concentrate is long lasting in all weather conditions
Available in 1 Gallon size (Part # F1515) or 8 oz. sample size (Part # F1516)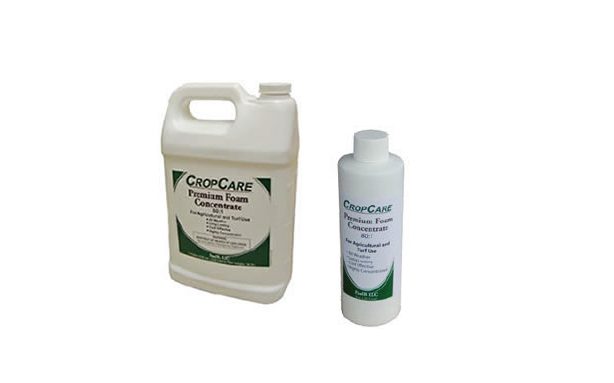 See What Customers Are Saying About CropCare!
Contact Us
We decided to add the Crop Care brand to strengthen the Java Farm Supply family of quality brands. We found their line of field sprayers will work on all farm sizes. The support from their field team is also very good. Crop Care is quality throughout.
-Mike Bookmiller, Java, NY
We're pleased to provide local farmers with quality CropCare brand spraying equipment, along with quality seed and a variety of planter parts. Each order is customized to meet each individual farmer's needs.
-James McAdams, Brier Ridge Seed
As a hunting camp owner, and habitat enthusiast, I'm absolutely delighted to have a CropCare ATX 60 gallon sprayer with 13' boom mounted in our UTV. (AND a 25 gallon ATV sprayer.) After years of fiddling with DIY and budget sprayers, it's a joy to have a heavy duty, built to last machine. It handles all our food plot, orchard and invasive species management tasks with a[...Learn more]
-Ron
I purchased a 400 gallon pull sprayer with 30' booms. I've been very pleased with quality and customer service. Parts have been available as needed. Thanks for your good service.
-Stan, Alabama
There is not one thing I don't like about my 1,000 Gallon Trailer Sprayer. I really don't know why anybody that wants a trailer sprayer would not want one of these 🙂
-Steve
This thing (the Picking Assistant) makes harvest easy and fun and takes laying down on the job to a whole new level!
-Darren
The #1 tool we liked was the CropCare Picking Assistant…and we love it. We use it for planting, weeding, and harvesting. It is so great to spend the whole day in the garden and your back is not stiff nor painful at the end of the day. Our farm now has about 3 acres in production, and it is just the two of us to do all the work. Well, our Maine Coon cat loves to supervise [...Learn more]
-Steve
CropCare is a reliable company, just like their products. They are synonymous with vegetable farmers' needs, and it is a privilege dealing with farmers and CropCare!
-Bob Waterman, Sabattus, ME