ATX60 High Boom Trailer Vineyard Sprayer
The ATX60 High Boom Sprayer is built for orchards, vineyards and tree farms. This compact sprayer can be attached to your UTV or ATV for easy maneuverability. Slip through tight spots and hard to reach places that larger sprayers can not.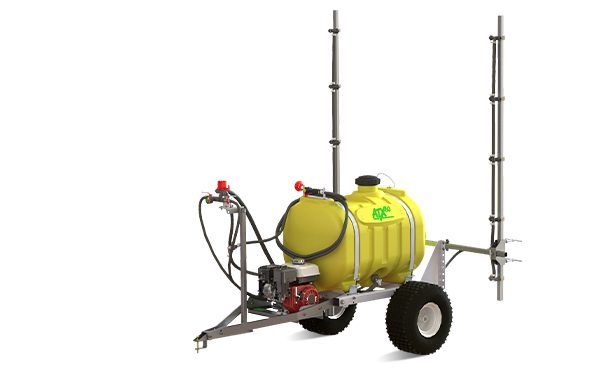 Features:
8′ tall booms
Hand wand with 15′ of hose
Pressure regulation valve and boom sections control
360 PSI high pressure diaphragm pump
4-stroke OHV 5HP Honda Engine
Inline filter
See What Customers Are Saying About CropCare!
Contact Us
CropCare is a reliable company, just like their products. They are synonymous with vegetable farmers' needs, and it is a privilege dealing with farmers and CropCare!
-Bob Waterman, Sabattus, ME
We appreciate the quality and the easy settings of the CropCare sprayers. CropCare is one of the great manufacturers in our line of options. They create a great value for our customers.
-Zimmerman Farm Service, Inc., Bethel, PA
This thing (the Picking Assistant) makes harvest easy and fun and takes laying down on the job to a whole new level!
-Darren
We like the great service and availability we get from CropCare. We like how they help us deal with problems and issues that arise. Also helping us to resolve warranty issues
As a hunting camp owner, and habitat enthusiast, I'm absolutely delighted to have a CropCare ATX 60 gallon sprayer with 13' boom mounted in our UTV. (AND a 25 gallon ATV sprayer.) After years of fiddling with DIY and budget sprayers, it's a joy to have a heavy duty, built to last machine. It handles all our food plot, orchard and invasive species management tasks with a[...Learn more]
-Ron
The #1 tool we liked was the CropCare Picking Assistant…and we love it. We use it for planting, weeding, and harvesting. It is so great to spend the whole day in the garden and your back is not stiff nor painful at the end of the day. Our farm now has about 3 acres in production, and it is just the two of us to do all the work. Well, our Maine Coon cat loves to supervise [...Learn more]
-Steve