Hydroponics, growing plants in mineral-nutrient solutions instead of in soil, is an increasingly attractive way to garden.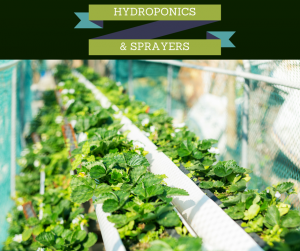 Common hydroponic methods include aquaponics, NFT (nutrient film technique), DWC (deep water culture), or Ebb & Flow (inert growing material placed on a table bed that floods and drains several times an hour).
Plants grown hydroponically require less water and can be grown in a smaller space, grown vertically, and in a more controlled environment.
"Part of the beauty of hydroponics is that you can control the nutrients and the plant very effectively, to a greater degree than in traditional growing," said CropCare sales manager Steve Zook.
"You can keep the temperature of the water perfect, he added. "As you keep the conditions and nutrients just perfect, you naturally minimize the risk of disease, or insect damage."
Change of season is rarely an issue. Also, growers know what nutrients have gone into their plants and there's less need for pesticides.
"However, in hydroponic production, you have a more dense plant canopy. Plant spacing is much tighter and that does increase the risk for disease and for insects to be populating in that," he warned.
Some commercial hydroponic gardens inside greenhouses, and outdoor hydroponic farms have such dense plant growth per square meter, it's hard to imagine walking in between "beds." (See Gotham Greens in Greenpoint, NY)
Also, controlling humidity levels in a greenhouse is key to having a healthy crop, but at certain times of the year, you can't keep those proper levels.
"That's where preventative spraying comes into play," Zook said.
Our sprayers can be used in large hydroponics setups and, of course, by the hobbyist or small commercial greenhouse to ensure better risk control and enhance the success of your yield.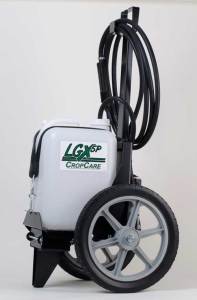 Equipment such as the LGX Portable Spray Cart, the PowerSak Sprayer, and Lawn Trailer Sprayers can play a pivotal role in deterring spread of disease or insect infestation.
Biological or soft chemicals can be dispersed effectively and efficiently using these smaller sprayers in your hydroponics care.
"There are some biologicals that are in liquid form or can be mixed with liquids, and our sprayers work very well with them," Zook said.
Though the hobbyist can easily maneuver between hydroponic plant beds using our portable spray carts and hand wands, there's also equipment to benefit a more dense hydroponic setup.
Small commercial hydroponic farms might consider using an ATV sprayer with a modified boom or combining spot sprayers with a boomless nozzle to the hand wand. In the small hydroponic industry, there's a wide variety of methods and setups that can be engineered.
One CropCare dealer modified an ATX line by building a bracket and combining it with a leaf blower to turn it into a low-cost airblast sprayer.
"That would work beautifully going down through vertical strawberry rows," Zook said, adding, "Our dealer base is always looking for ways to provide solutions to the industry it serves."