Your sprayer nozzles should provide safe, adequate coverage while avoiding product waste.
It'd be great if one nozzle type covered all applications sufficiently, but that's just not the case.
"That is why we offer so many different spray angles, droplet sizes, and flow rates," said Bryan Fowler, regional sales manager at TeeJet Technologies. "Spraying is quite varied and has many different requirements."
With all the choices, it can be overwhelming.
Fowler and Lowell Graybill, sales and technical support at CropCare Equipment, offer some guidance:
To choose the right nozzle, farmers should familiarize themselves with the products they are applying.
"Most labels actually give a recommendation on the droplet size, and from there you can figure out what kind of pressure you need. Take into consideration the volume, know the rate, and know the environmental conditions (high humidity? wind? rain predicted, proximity to neighbor's yard)," Lowell said.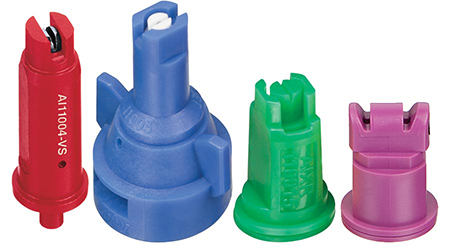 "More and more often, the user will find the manufacturer's specific suggestions to achieve the best application," Fowler added. "They have tested the product thoroughly for years, and they know what works and what does not.
"In some cases, the label will inform the user what actual spray tips they should choose from. In many instances, the label will indicate what droplet size they should utilize," Fowler said.
"Taking the droplet size information from the label, the applicator simply needs to decide upon the style of spray tip. For example, in a broadcast application, a tapered flat fan is normally used. With proper spacing and boom height, this tip will overlap properly and offer even distribution across the boom," Fowler said.
"This can be a single-spray pattern or a twin-pattern tip. The twin-pattern tip can offer the advantage of hitting the target with two spray patterns instead of one, improving coverage."
Let's get it down to common nozzle types:
"Within any of these types, it breaks down to more complex features," Graybill said. "Flat-fan can have air-induced tips, extended range, turbo for larger droplets… some have multiple outlets, like a twin-jet flat fan."
Nozzle choice depends on the use of the sprayer. Cone nozzles are mostly used in higher pressure settings when smaller droplets are desired. Uses typically include spraying fungicides and insecticides.
Flood nozzles are popular among commercial applicators, who use high-speed spray rigs when spraying high volumes, especially with fertilizer. Flood nozzles offer less risk of drift in those cases.
The operating pressure and the size of a nozzle opening will influence its output.
"The finer the drops, the greater the risk of drift. High pressure will give you smaller droplets," Lowell explained.
Flat nozzles are used in broadcast spraying of herbicides and insecticides when penetration isn't required. They're ideal for applying pre-emergent and post-emergent insect- and disease-control pesticides, as well as weed control.
"The tips that produce the largest droplets for broadcast spraying are the Air Induction (AI) type," Fowler said. Air-induction nozzles help liquid cover crops more accurately and remain on target.
Air-induction, Fowler feels, is one of the best developments in nozzle offerings in recent years.
"These tips have ports built into the side of the tip body and air is pulled in through these ports. This air is mixed inside the tip with the fluid, in a chamber, and metered by a pre-orifice. The fluid is then sprayed through the exit orifice."
Regardless of nozzle type, an effective, safe application still requires knowledge of the product being sprayed, and spraying in favorable weather conditions.