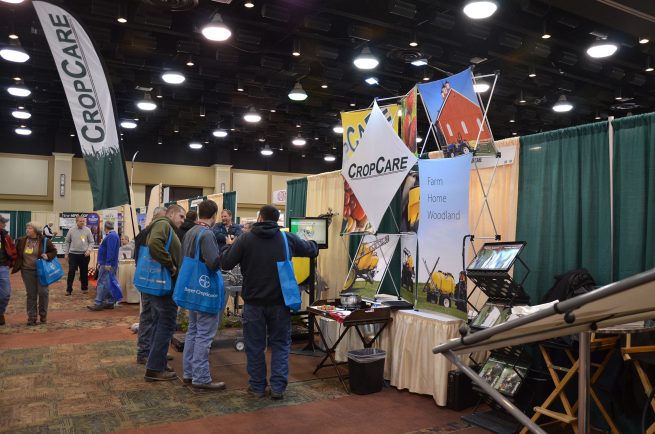 Farm and trade shows are great destinations for those in the ag industry.
You can see farm equipment displays, hundreds of ag-related exhibits, and have lots of opportunities to meet and talk with other farmers – all in one place.
CropCare wants to make sure you get the most out of the trade shows you attend, so we've compiled a list of 10 tips to help:
Go Prepared: Get a map of the show, with vendor/display locations, beforehand. Highlight those you want to visit and plot your course.
Timing is everything: It's best to arrive in the morning if you want to get a lot of information from reps (they're fresh and ready to sell), but that could also mean more crowds. Consider attending in the morning of the first day, if it's a multiple-day event. Crowds usually grow the next day. Go early enough and you can still get back to the barn or cows that need your attention.
Don't be too narrow: Consider visiting brands you're not familiar with to get a fresh perspective on what ag equipment options and solutions are out there. You'll gain more insight to make solid decisions about the features and benefits you want and can afford. Make sure you're comparing apples to apples.
Observe, Listen, Ask: Gain insight from other show-goers, not just exhibitors. Trade shows are filled with like-minded people looking for solutions. Don't be afraid to join in conversations, politely, if it benefits you. Talk about your challenges, there might be someone from across the country who has found a way to solve them. You might have helpful insight to offer in return. There are also few questions product reps haven't heard before, so ask away.
Use Your Smartphone: If you see a product you're particularly interested in and the booth is crowded, take a picture of the equipment and a quick snapshot of the rep (and his name tag). When you have time to call the rep for more information, you'll have a name with a face and the product image right in front of you for reference. You can also do some online research beforehand. This can cut down on the number of flyers and brochures you grab. You'll have less to carry.
Parking: The earlier you arrive, the closer you'll get. Experienced show-goers have said the second day of an event is generally more crowded than the first day.Consider carpooling with neighboring farmers. This provides another opportunity to gain insight from others through conversations during travel.
Look For Deals: Waiting to attend until the final day of the show could pay off. Dealers don't want to take anything more than they have to back to their home base. Farm equipment dealers may be quick to make a sale, even during the show. If there's stipulations at the show that vendors can't display sale prices, you still might be able to get a verbal sales-price commitment. A lot of show organizers prohibit vendors from allowing agricultural equipment to leave their display booths until the show is over. So when it's time to pack up, dealers may be willing to negotiate prices.
Carry A Business Card: You can quickly exchange your contact information with any vendors of products you're interested in, without taking up a lot of their time. You won't be slowed down either, and you'll get to see more of the farm show.
Think of Food: That is, don't rely on there being many choices at the show. Some farm shows have a wide variety, while others might just list "food available" and it means small offerings. If your pre-show research doesn't give you details on the food that will be there, pack jerky or other snacks that are hearty and don't need to be kept cold. Bring water to avoid dehydration headaches. Consider buying lunch at a food place outside the venue if it means less time waiting in line.
Appearance may matter: Vendors want to sell product and some reps may dedicate more time and energy on a potential customer whose appearance indicates a disciplined lifestyle and an ability to afford the product.
We hope to see you at CropCare exhibits! Look for us at the following trade shows:
Great Lakes Expo, December 6-8, 2016
DeVos Place Convention Center
224 Bridge Street NW
Grand Rapids, MI 49503
www.glexpo.com
Southeast Regional Fruit & Vegetable Conference, January 5-8, 2017
Savannah International Trade & Convention Center
One International Drive
Savannah, GA 31402-0248
https://www.seregionalconference.com
Keystone Farm Show, January 10-12, 2017
York Fairgrounds
334 Carlisle Ave
York, PA 17404
https://leetradeshows.com/keystone-farm-show/
Empire State Producers Expo, January 17-19, 2017
Oncenter Convention Center
800 S State Street
Syracuse, NY
https://nysvga.org/expo/information
Virginia Farm Show, January 18-20, 2017
Augusta Expo Land
277 Expo Road
Fishersville, VA
https://leetradeshows.com/virginia-farm-show/
Vermont Farm Show, Jan 31 – Feb 2, 2017
Champlain Valley Expo
105 Pearl Street
Essex Junction, VT
http://www.vtfarmshow.com/
Mid Atlantic Fruit & Vegetable Expo, Jan 31 – Feb 2, 2017
Hershey Lodge & Convention Center
325 University Drive
Hershey, PA
www.mafvc.org
New Jersey Agricultural Convention and Trade Show, Feb 7-9, 2017
Harrah's Resort Waterfront Conference Center
777 Harrah's Boulevard
Atlantic City, NJ
New York Farm Show, February 23-25, 2017
NY State Fair Grounds
581 State Fair Boulevard
Syracuse, NY
https://www.newyorkfarmshow.com/en/home.html