Proper sprayer cleaning is crucial to prevent damage to non-target crop species.
Herbicide residue from chemicals such as glyphosate left in your field sprayer can contaminate it, and could affect crop growth and yield.
Pesticide residue in a spray tank may corrode metal, hoses, and other essential sprayer parts.
Pesticide residue left behind from one application can react with pesticides applied later, impacting their effectiveness.
Herbicides, such as Roundup, will need to be scrubbed from sprayers also to ensure accurate future applications.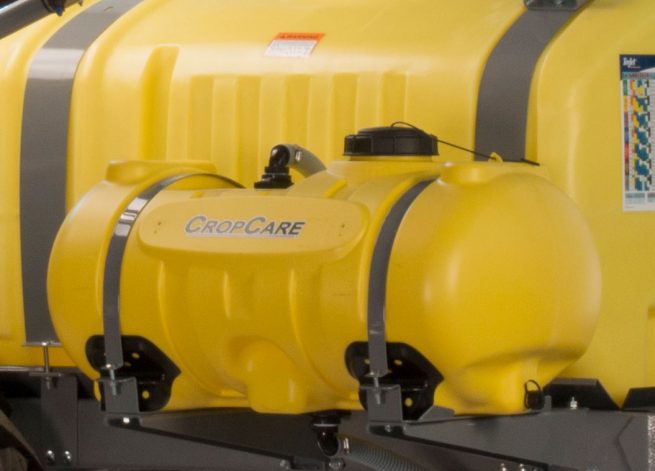 After you've applied all your spray material, flush the sprayer system.
Then, fill your spray tank half full with water, add any cleaning agents or neutralizers and agitate the material well, opening all recirculation lines and any other hoses including the eductor/inductor line.
Before emptying the material, completely fill the tank with water and agitate thoroughly again.
Once pure water is circulating through the tank and lines, keep the spray valves supplying the nozzles open and running until they are spraying pure water.
You will need to thoroughly clean more than just your ag sprayer's tank. You should include everything, right to the nozzles.
Inspect strainers and filters too, and clear away any debris or buildup due to repeated spraying.
A pressure washer may be needed to remove dried-on or greasy residue.
Give special attention to the sump, the pump, the area near your agitation components, the sprayer's outside surfaces, and all hoses.
When transitioning between crops, follow the specific clean-out procedures listed on the label of the pesticide or herbicide you're spraying.
If it's not possible to spray the rinsate on the field, find a location at your application site where dumped rinsate won't seep into water supplies, streams, or onto non-target crop species.
You do not want to risk that chemical contacting plants or aquatic life it could kill.
Keep children, livestock, and pets away from any dumped rinsate.
We suggest you have plenty of water on hand for system rinsing as well as a tank of dedicated fresh water on your sprayer to allow for rinsing safety gear and any clothing or skin having come in contact with spray material.
CropCare offers a fresh water tank and a power wash system with jug rinse and wash-down hose as accessories on the CropCare 3PT sprayers and trailer sprayers to make it easier to rinse and neutralize your ag sprayer immediately after spraying.
Remove the nozzles and screens, and filters. Flush the sprayer system twice with clean water.
Some sprayer cleanups require special cleaning agents. Choose your sprayer cleaning agents according to which pesticide and formulation is being removed.
Be cautious if using hot water to rinse, as it could create hazardous vapors when mixed with certain dried residues.
Do not use bleach for the same reason. In many cases, household ammonia will work well as a cleaning agent; but always consult the chemical label.
The best way to start any sprayer cleanout is by referencing the labels of the product you're applying.
Before your next application, carefully read the labels of the product you already sprayed, as well as the label of the product you're going to spray next.