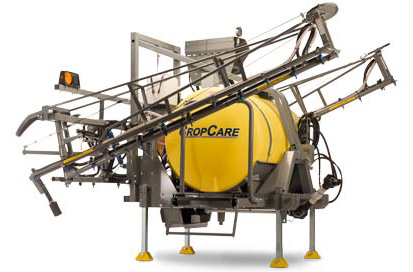 Proper care of your ag sprayer can add years to its life, and could eliminate downtime in the field.
Here's a quick checklist to make sure your sprayer is ready to go this spring:
Flush the sprayer to cleanse it of antifreeze or buildup, and to ensure its plumbing system, seals and gaskets have not suffered any winter damage.
Remove, inspect and clean the main system screen, boom line screens and nozzle screens.
Do a visual inspection for any worn parts, loose bolts, or other visible problems, and make necessary repairs.
Clean your sprayer's nozzles, and test the nozzle flow rates. (Teejet® recommends replacing nozzles after every spraying season.)
Inspect all wire of electric and automatic rate controls and test their operation.
Calibrate the spray nozzles, flow meter, and speed sensor. You can find calibration resources here and in your owner's manual. All calibration needs to be done with water.
For safety's sake, inspect the tires for any damage and check the tire pressure. Test the implement lights to ensure they are working properly. Replace any damaged SMV signs or warning decals.
Before using the sprayer, be aware of the terrain. Inspect your property for holes, slopes, drop-offs, banks, rocks or other hidden hazards.
Make sure the area where your sprayer will be in use is clear of people and obstructions before moving the sprayer or engaging the PTO.
If your sprayer pump requires service, disconnect the power, release all pressure and drain all liquids beforehand.
Please contact your nearest dealer for sprayer parts. Visit our dealer locations page to find a dealer near you.