How Are Strawberries Harvested?
Farmers and farmhands have picked strawberries by hand for thousands of years. Today, many farmers still rely on handpicking to find the ripest fruit at the right harvesting time. Although this method results in delicious fruit, it takes a physical toll on the laborers because of the heat in the field and the constant bending.
While strawberry picking machines have entered the market, many cannot distinguish between ripe and unripe fruit, and often damage the berries because of rough handling. As a result, these machines usually pick strawberries for jams and jellies rather than fresh fruit for the consumer to eat.
That's why the strawberry harvesting industry is changing with new inventions that focus on how workers can use technology to make the job easier and safer.
Technology Is Revolutionizing How Strawberries Are Harvested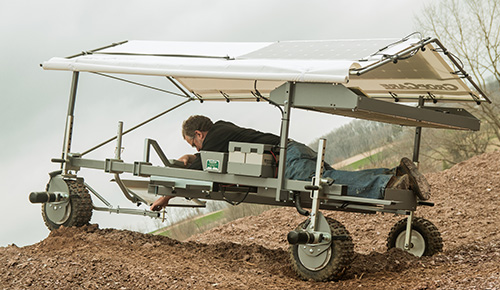 Innovations in harvesting technology can protect workers and increase productivity levels. The Picking Assistant from CropCare® revolutionizes how strawberries are harvested by combining the ability of workers to pick the fruit and handle them at the right time with the ease offered by technology.
The worker lays down flat on the device with shielding above them for protection from the heat and inclement weather. This electric motorized machine limits back strain and helps workers move faster. Solar panels help the battery to maintain charge and power the dual high torque variable speed motors.
Since the introduction of CropCare's Picking Assistant, growers have found a multitude of ways to use the machine for wide variety of purposes, including: weeding, planting, picking snap beans, peas, cucumbers, garlic, and more.
CropCare's other innovations also simplify the harvesting process. The CropCare® Plastic Mulch Layer uses heavy-duty technology to shape the bed and lay plastic mulch at the same time. We also offer a Single Reel Plastic Mulch Lifter-Wrapper and a Double Reel Mulch Lifter-Wrapper to meet specific needs when it comes time to remove the plastic mulch.
The Single Reel is a helpful accessory for small tractors since it attaches to a three-point hitch. The Single Reel is also highly effective for narrow orchard rows. Both the Single and Double Reels split and raise plastic in one pass so that you can easily push trash out of the way, and dispose of your plastic in neatly wrapped rolls.
Whatever your application, innovations in harvesting technology can help your farm work more efficiently every day.
Find Your Commercial Strawberry Harvesting Solution Today
Searching for tools like a Picking Assistant, Plastic Mulch Layer, or Lifter-Wrapper? The CropCare® team is here with professional advice to help you find the ideal fit for your farm.
Our equipment comes with one- to two-year limited warranties and parts stocked for multiple years. We also offer ongoing technical support through the CropCare® dealer network so you can have peace of mind every time you step onto your field.
Ready to learn more? Contact us today for a free quote so we can help you select the quality harvesting equipment you need.